Yoga in Lapland with Nea Ferrier
March 18 – 22, 2022
Join Nilaya House founder & teacher Nea Ferrier in remote Lapland Finland, to celebrate the end of a beautiful winter season, and, in search for the northern lights every evening.
Untouched wilderness beyond your wildest imagination.
Five days of peace, reflection, yoga and meditation for all levels, with a little adventure thrown in too!
For bookings contact: [email protected]  or visit here
---
Sleeping under the stars in Aurora Cabins
Morning Ashtanga Yoga
Afternoon gentle yoga & meditation
Walking in pristine forests
Snowshoeing
Riding with Huskies
Feeding Reindeers
Unwinding in the saunca/jacuzzi
Ice dipping
Warm weather gear included
---
---
About Nea Ferrier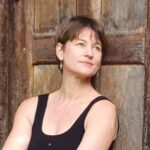 Nea is KPJAYI level 2 authorised teacher of Ashtanga Yoga and founder of Ashtanga Yoga Dubai and Nilaya House.
Originally from Sydney, she has been teaching Ashtanga yoga practice and philosophy internationally since 2008 and in Dubai since 2012.
Nea has taught in Australia, China, Japan, Russia, Saudi Arabia and Turkey and led yoga and meditation retreats in India, Italy, Rwanda, Sri Lanka and Zambia.