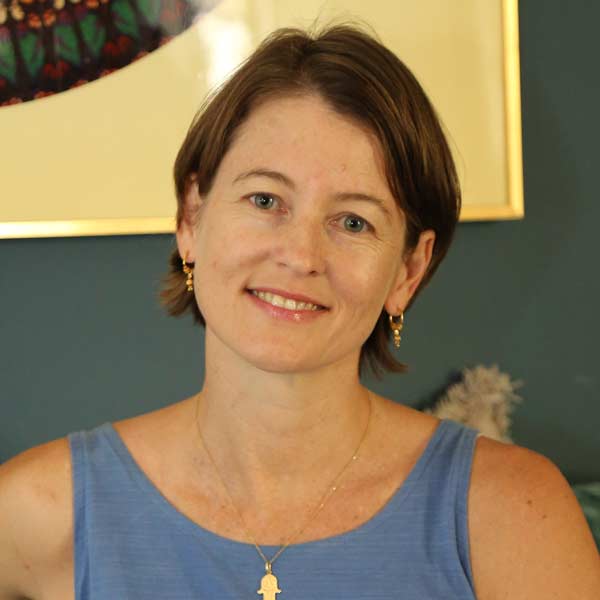 Nea is the founder of Nilaya House and Ashtanga Yoga Dubai. She has been teaching yoga since 2008 and is is a KPJAYI level II authorised teacher of Ashtanga Yoga. Originally from Sydney, Nea has shared her love of yoga with students in Australia, China, Japan, Russia, Singapore, Turkey and now Dubai, where she settled in 2013. She has been practising yoga daily for 15 years and continues to study with senior teachers of various yoga methodologies. She is also a committed meditation practitioner and student of yoga philosophy.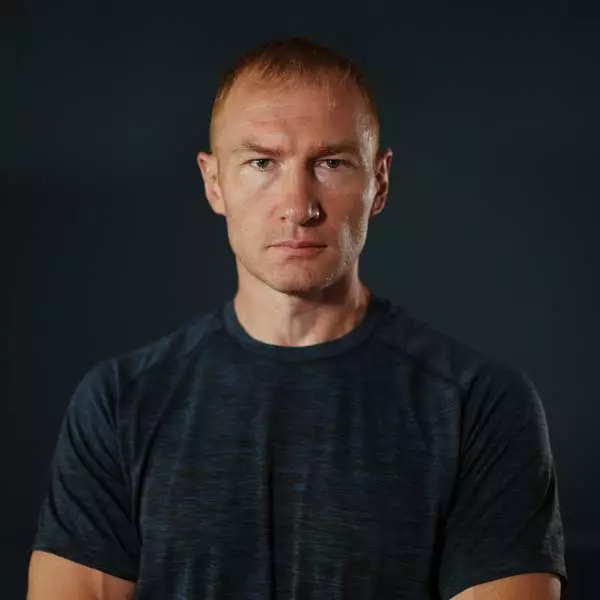 Alexey has been practising Ashtanga yoga since 2007 – studying with authorised teachers in Moscow.
In 2010 he became a student of KPJAYI and has made five individual trips to Mysore since that time, as well as attending multiple trainings, three workshops with Sharath Jois and classes with David Swenson, Richard Freeman, Lino Miele, Petri Raisanen, Eddie Stern and Mark Darby.
Alexey has been teaching Ashtanga for the last ten years at the Ashtanga Yoga Shala and Ashtanga Yoga Center in Moscow and Ashtanga Yoga Dubai since 2015.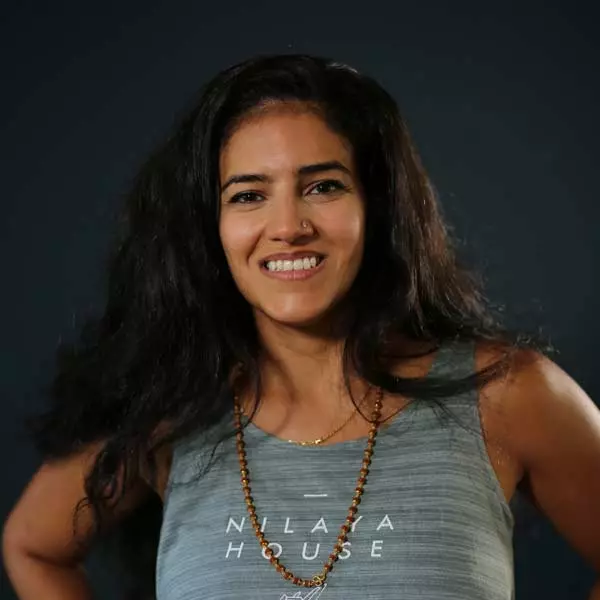 Anmar has been practising Ashtanga Yoga for 13 years. She completed her teacher's training with senior teacher Mark Darby in Montreal Canada in 2009 and has also studied yoga in Mysore India. She continues to maintain her regular yoga practice at Ashtanga Yoga Dubai alongside a full-time career in the corporate world and her role as founding partner of Nilaya House.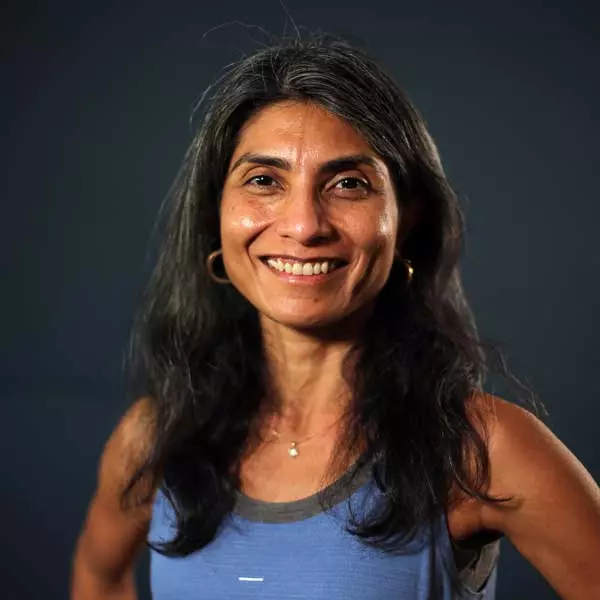 Aparajita has been teaching yoga since 2008. Over the years she has practised different styles including Bikram, Bihar School of Yoga and Iyengar Yoga.
She completed her teachers' training at Yoga Point in Nasik. She continued her yoga training and is a certified Introductory Level 1&2 Iyengar yoga teacher.
Her classes are fun and approachable, with attention to alignment, breath and maintaining mindfulness through the practice.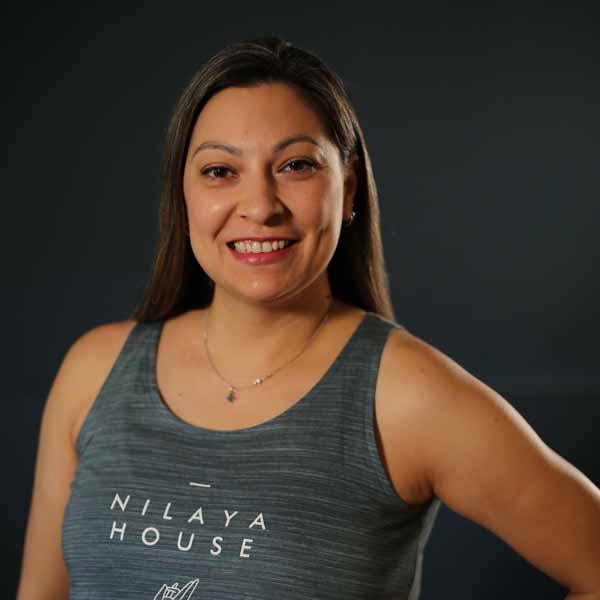 Britni Allen CD(DONA) has a degree in Health Education and Kinesiology and is a Certified Doula.
She is also certified to teach Prenatal, Postnatal and Mommy & Baby Yoga, and is currently continuing her education to become certified as a Childbirth Educator and Breastfeeding Counselor.
She has been teaching yoga in Dubai since 2014, as well as providing doula support – with the aim to offer couples physical, emotional, and informational support to parents throughout their pregnancy, labour and the birth of their baby.
She teaches her prenatal yoga classes from the perspective of a teacher, a doula, and a mother. The birth of her two children, one 'land baby' and one 'water baby' fueled her passion to pursue the birth profession, and her Ashtanga practise led her to become a yoga teacher. She strongly feels that the benefit of prenatal yoga, breathwork, and the support of a doula can help promote a more positive birth experience.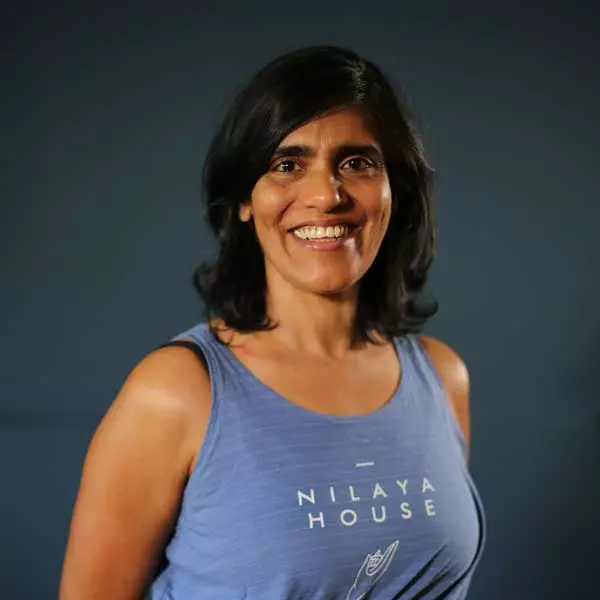 Naseem started practising Iyengar Yoga in 2001 with Djoeke Van Der Werf – one of the pioneer Iyengar Yoga teachers in Dubai. She started teaching after completing her Introductory Level certification in 2004. Over the years she has had the good fortune of studying at Ramamani Iyengar Memorial Yoga Institute in Pune under Guruji BKS Iyengar. In addition, she has attended classes and workshops with Geeta and Prashant Iyengar.
She currently holds Junior Level II Intermediate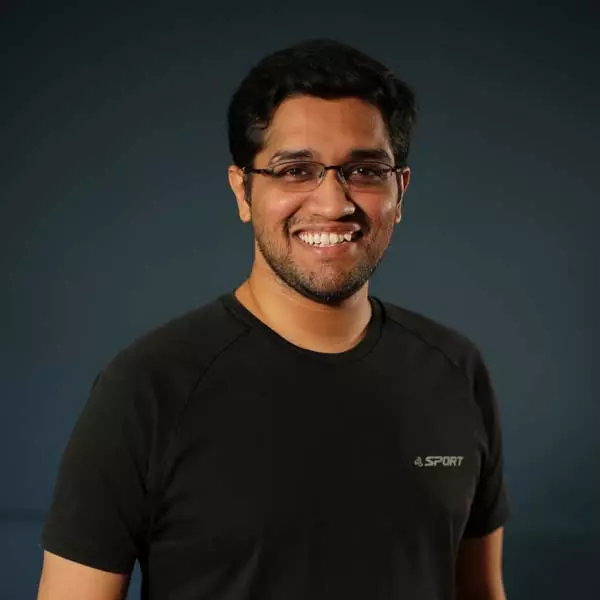 Rangaji is a certified Iyengar Yoga teacher and holds a Masters in Yoga from SVYASA Bangalore, which helps him bring a contemporary approach to yoga.
His approach to biomechanics of Yoga has paved the way to handling health from a new perspective. This was inspired greatly by Dr Gladson Johnson, a Sports Physiotherapist from Bangalore (Attitude Prime Physio). He also uses complementary techniques from other bodywork systems to enhance the experience of Yoga, all the while retaining its traditional essence.
He has spent time in Orthopaedic Hospital under the guidance of Dr John Ebenazer in administering Yoga to patients as a way of managing and improving their overall health. He believes Yoga should be learnt as a subject, and not just practised as a physical form.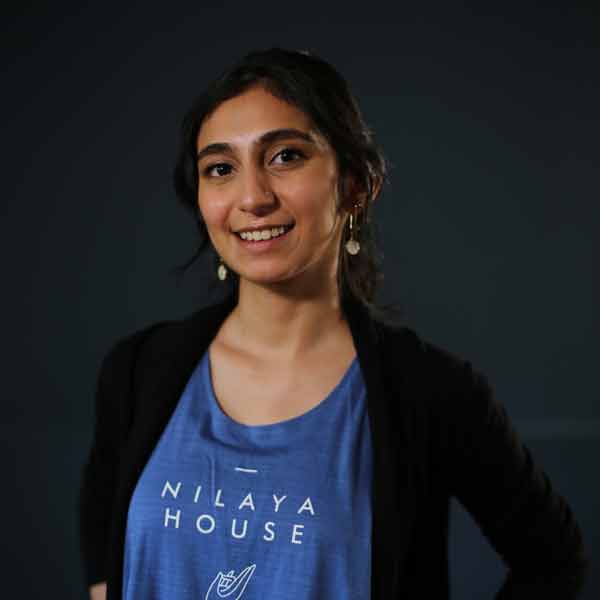 Zainab is a certified yoga teacher and has been on her yoga journey since 2014. Her classes are inspired by her own dedication to the traditional system of Ashtanga Yoga. With simple but strong sequences, Zainab aims to challenge her students within their foundations, but also maintains an emphasis on breath and alignment.
An advocate of mental health and wellbeing, Zainab aims to create a safe space during her classes and hopes for her students to draw their focus inwards and find calmness – not only within their bodies but more importantly within their minds.
Zainab continues to study under senior yoga teacher Nea Ferrier at Ashtanga Yoga Dubai – regularly assisting her during the Mysore sessions and has attended several workshops with international yoga teachers such as Mark Robberds, Deepika Mehta and Petri Raisanen.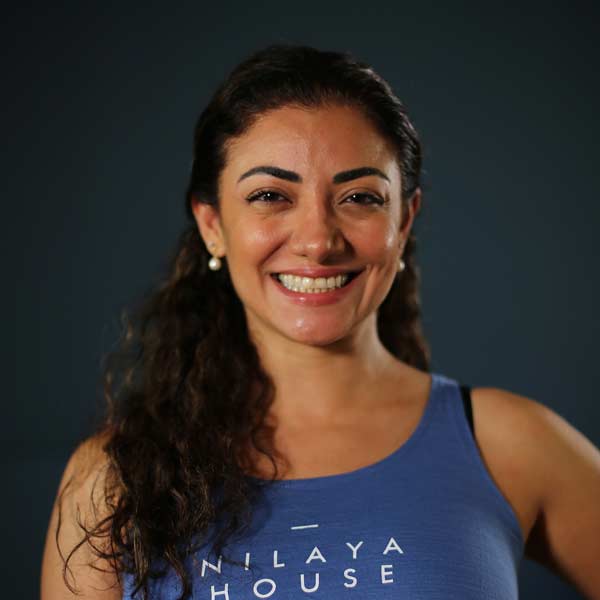 Hodis was a fitness industry professional until she fell in love with yoga at an early age. With a deep interest in women's health and over 10 years of experience as a yoga teacher, Hodis follows the Iyengar School of Yoga teachings. The school includes some of her greatest mentors and she studies under Gabriella Giubulario and Lois Steinberg.
Her classes are focused on combining a deep understanding of anatomy and the organic body in the poses, with the breathwork and mind-soul connection that yoga brings.
Additionally, Hodis can teach classes in both English and Farsi.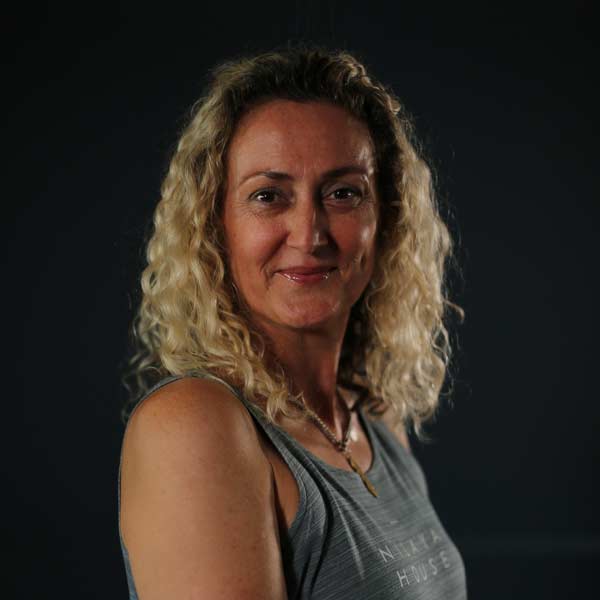 Amanda has been a keen bodyworker for 18 years. Travelling around the world for many years gave Amanda a passion for being with and listening to others.
Studying Traditional Thai Massage in Thailand and the U.K., a natural progression was to move into full-time Personal Training. For ten years, since taking her 200 hours yoga-teacher training with Gabrielle White Wolf, Amanda has continued to study, listen and observe all kinds of different bodies with a sense of curiosity.
In 2015, Amanda completed a 100 hour Yin Yoga Teacher Training with Jade Wood. The training changed her entire outlook on how people connect with their bodies – joining the dots with the physical, emotional and mental wellbeing.
Currently taking a two-year course on Bio-Dynamic Sacral Cranial Therapy, Amanda continues to add to this ever-expanding interest in what it means to be 'embodied'.
She teaches regular classes and workshops at Nilaya House, as well as individuals and small groups privately.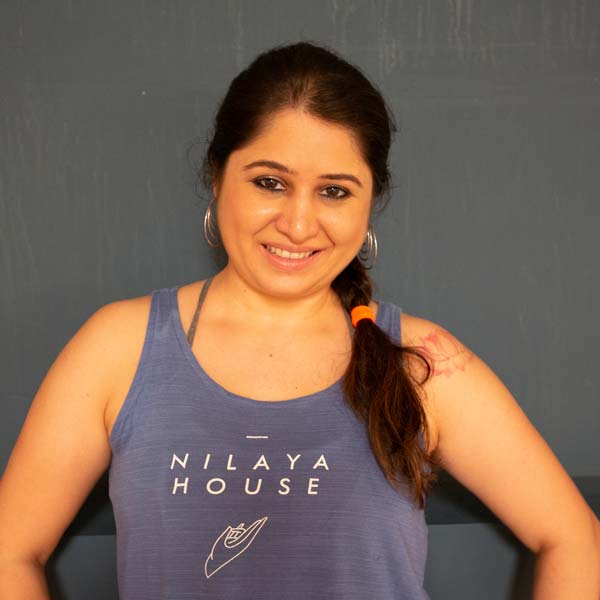 Sneha received authentic exposure to Yoga at a very young age from many masters and schools of Yoga in India, She did her formal 1 year-long training at The Yoga Institute – the oldest school of Yoga in 2006.
Today she represents them in the UAE and has been running the 200 & 300 Hour Yoga trainings as their affiliate in Dubai for the last 3 years.
Apart from being a Yoga teacher, she has been trained as an Indian Classical singer and has been drawn to Bhakti Yoga since her youth. Her first Mantra Album was out in 2002 and with the blessings of her Guru, she has conducted Mantra, meditation and Bhakti Yoga sessions in different countries like India, Turkey, Bali, U.S, France and in yoga studios across Dubai.
Her soulful voice immersed in devotion has touched a lot of people. Being fortunate to be part of Yoga fests such as Sedona Yoga Festival, in the U.S and Paramarth Niketan in India, she has lead Bhakti Yoga sessions for a lot of participants in the fests.
Her youtube channel, YOGIHEARTS has peaceful Mantras and Bhajans, uplifting spiritual songs and soon will be available on Spotify and on the app of The Yoga Institute.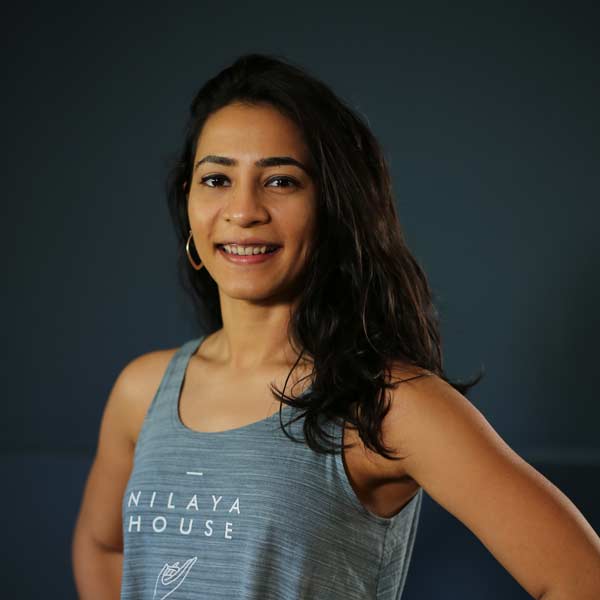 Zainab is an Ashtanga Yoga student and practitioner of over 4 years. She has practised under the guidance of R. Sarawasthi Jois in Mysore and continues her studies with Nea Ferrier and Alexey at Ashtanga Yoga Dubai.
She completed her 200 Hrs. YogaWorks Vinyasa Teacher Training in Dubai in 2020 and gets mentored by her teachers at AYD to teach the Ashtanga method.
She teaches the Ashtanga level 1 classes online as well as in person at Nilaya House. Her classes follow the traditional Sanskrit count and allow for modifications to suit the student's needs.
She's a true believer in the power of the yoga practice and how it can change one's life and is a true advocate of the same.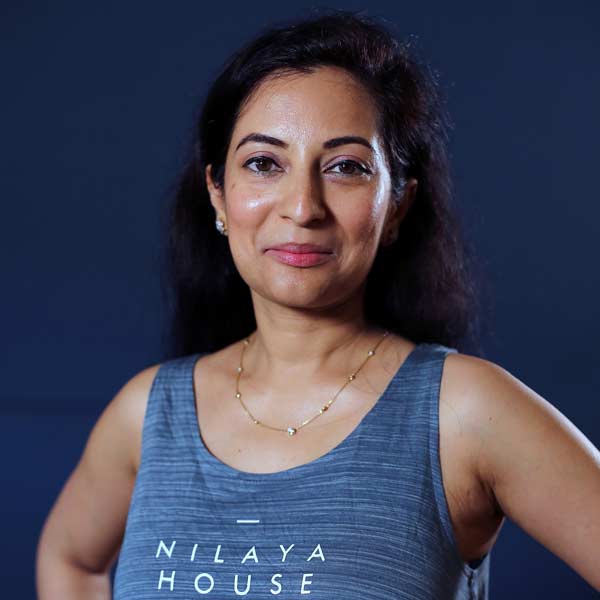 Payal is from the state of Assam in India. Born into a family that can trace its origins from 1490, with a 500-year-old temple still honoured and respected by her family – she grew up with rich cultural traditions.
As a child, she was encouraged to practise yoga. After many years of living away from her family, working in fashion and travelling to more than 28 countries – she has found her way back to her roots. Practising Yoga has helped her bring about positive changes in her life, cultivate mindfulness and self-awareness.
She is a formally certified Hatha Yoga teacher by Sivananda Yoga Vedanta. It focuses on meditation, postures, positive thinking, yogic diet and spirituality.
Payal is also certified to teach prenatal yoga and yoga for seniors. She can teach in both French and English.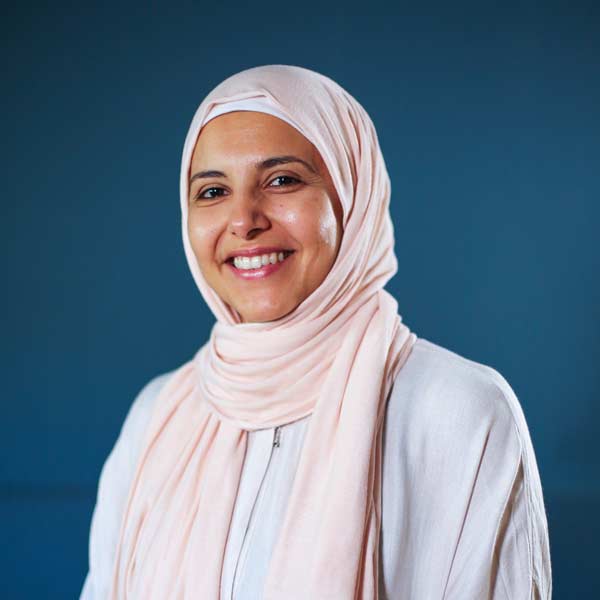 Passionate about Ashtanga and Restorative yoga, two completely opposite styles, Nassima believes that life is all about finding the balance that works for you.
RYT500+, She has been studying yoga for the past four years under the best teachers in the Middle East and had the chance to meet some international yoga teachers who continue to visit Dubai. Creatively, she launched her small project of handcrafted yoga props that unlocked a hidden passion for therapeutic yoga.
Through her classes, Nassima guides and helps her clients manage stress and cultivate wellbeing.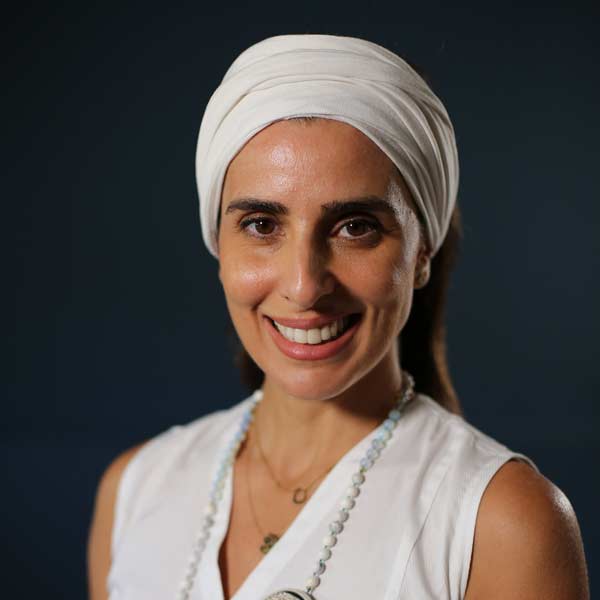 Based in Dubai for 21 years, Nancy is a pioneer of physical, mental, emotional and spiritual fitness in the Arab world and an active Kundalini Yoga Teacher & Trainer with the New Mexico-based Aquarian Teacher Academy (KRI).
Nancy was also a trainer in the first-ever Kundalini Yoga teacher training in Palestine and has held special events and wellness activations in North America, Asia, Africa, and the Arab world.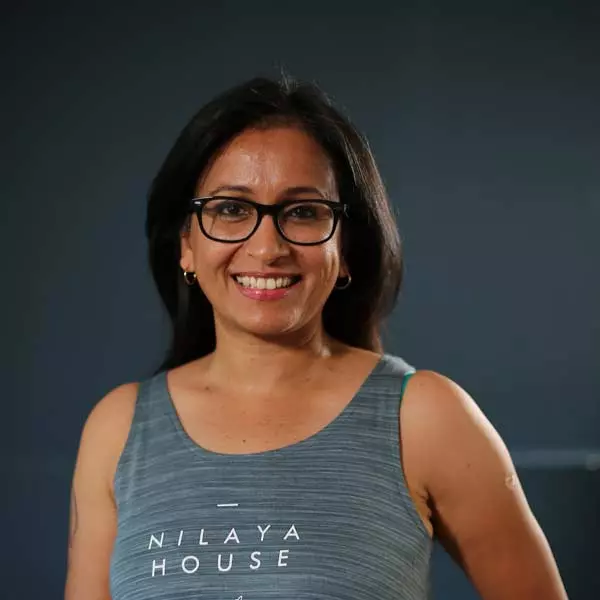 Hema is an ERYT 200, RYT 500 Yoga alliance certified teacher. She teaches Hatha, Gentle yoga, Power yoga, Vinyasa, Pranayama, guided meditation and relaxation techniques.
She was drawn to yoga for the serenity and peace it brought her amidst the uncertainties and challenges in life. With an educational background in Biological Science, she has a naturally inquisitive and scientific mind which helps her reap the anatomical benefits of yoga, both in teaching and personal practice.
Her asana classes are energising, motivating, and meditative; encouraging inner awareness through focus and mindful breathing.