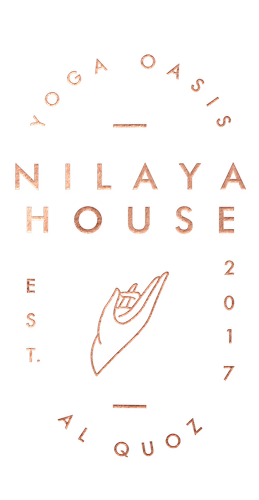 We are a yoga shala in the heart of Al Quoz. A place to start or deepen your yoga journey, with experienced teachers, focused on personalised attention and guidance.
We run regular classes, courses, and workshops in Ashtanga, Hatha, Kundalini, Iyengar, Restorative, Yin, Prenatal Yoga and Meditation for all types of students, from beginners to experienced practitioners.
We offer both in-shala and online classes via zoom.
YOGA CLASSES TESTIMONIALS
---
Yoga with Hodis has and is my favorite part of the week. Her passion, knowledge, care and enthusiasm creates a beautiful atmosphere in her classes which I appreciate the most. She explains every pose in detail and encourages you to reach your full potential.
So happy to have met Purva and attend her meditation classes in the peaceful atmosphere of Nilaya House as I have always felt a feeling of serenity there. An hour with Purva's smile and welcoming lights and chanting has become a necessity for me in my busy life. I always feel refreshed, calmer but also more aware, somehow, after our sessions.
Restorative Yoga with Nassima was exactly what I needed to relax, unwind and stretch my body.  Nassima's warmth and expert guidance in every posture made us feel safe and supported. 
I left the session feeling rested and restored and would not hesitate to recommend the class to anyone I know. 
A big thank you to Nassima and Nilaya House.
If you're like me and never quite got yoga and feel intimidated about keeping up with group classes, I'd highly recommend going to Zainab's introduction to Ashtanga course at Nilaya House. As I've huffed and puffed through asanas wondering why people do this to themselves, and how everyone else appears to be so gracefully posed as I fall flat on my face, she's pushed and encouraged me just the right amount to keep me wanting to persevere. To be able to go from barely making it through a basic Surya Namaskar or two in a class, to adding on many more per session along with several other asanas in a span of just six weeks feels pretty incredible. But, while the physical accomplishment feels great, the relief of the weight of anxiety and stress lifting each time I walk out of her class is life changing and what keeps me going back despite my sore protesting body. Whether you're a newbie like me looking for a non-intimidating space to learn or just wanting that little extra push to keep you going, I cannot recommend Zainab's classes enough and I am so grateful for the wonderful experience.
It has really been lovely attending the morning sessions at Nilaya house, the facilitators are excellent and it has benefited my well-being. It is one of the most authentic yoga centers in Dubai that I have come across that give individual attention even in a group class.
Namaste, My idea of yoga was just to sit and do repetitive postures. Honestly, it didn't click with me until I was exposed to information about Yoga Nidra, the teacher was amazing. She made sure to explain every single step and kept checking in on me to make sure I was really enjoying it. I haven't been able to sleep deeply for over two years due to high stress levels, until I took my first session. I highly recommend this to everyone that is stressed, overwhelmed and having panic attacks as this will help for sure. A huge thank you to the team of Nilaya House for their support and patience with a newbie that asks a lot of questions.
I have been looking for a yoga class for many months now, in Dubai. Having tried various classes, nothing seemed to have made me want to come back, until I met Payal at Nilaya House. A place where I instantly felt at ease. I absolutely love my sessions there. Payal is very approachable and a knowledgeable teacher. Not only does she guide me through my yoga journey, but also adds the true meaning to it, finding time to also explain the story behind it all. It is a session where I focus on myself away from all the stress and responsibilities of city life, allowing me to look after myself both; physically and mentally, recharging and energizing me for the week ahead.

Find us on google maps under
NILAYA HOUSE
---
Warehouse 4, Building 1
9B Street
Al Quoz Industrial Area 3
(opposite Buamin Marble & Granite Factory)
---
PHONE:
971 50 230 1363
NIYALA HOUSE
Warehouse 4
9b Street
Al Quoz Industrial Area 3