Welcome to Nilaya House
---
We are a yoga shala found in the heart of Al Quoz.
A place to start or deepen your yoga journey, with experienced teachers, focused on personalised attention and guidance.
We run small-group courses in yoga designed for beginners or those wanting to further explore a particular yoga method as well as sessions for teens, kids and pre-natal students.
Nilaya House is also the home of Ashtanga Yoga Dubai which offers daily classes headed by KPJAYI Level II teacher Nea Ferrier.
CLICK HERE FOR MORE INFO
While the roots of yoga can be traced back thousands of years, the teachings remain as relevant today as ever. Yoga is a powerful tool for self-transformation, physical, mental and spiritual well-being.
We believe the many benefits of yoga are best experienced when it is taught as a method through "parampara" direct teacher to student transmission. For this reason, our course class sizes are kept small (6-8 students) and we are focused on sharing practices that come from established yoga lineages, taught by teachers with experience that has come from years of dedicated yoga practice.
Nilaya House is also available as venue for workshops and courses in other movement modalities, that are supportive and complementary to enhancing our students understanding of the body-mind connection.
We have named our shala "Nilaya" this is the sanskrit word for "peaceful home". We hope for our shala to be an oasis in city, a sacred space for meaningful yoga practice.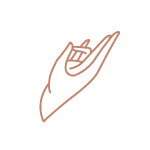 Our logo includes the "prithvi mudra", a hand gesture that is used in yoga to promote spiritual balance. It is in the colour of copper, known in Ayurveda for it's healing properties set against Indigo blue, the colour for developing intuition and accessing deeper layers of consciousness.
Six-Week course
(One session per week)
---
Sundays
7:45 PM - 9:00 PM
Starts April 8
OR
Tuesday
11:00-12:15 PM
Starts April 10

This six-week course is designed to introduce the foundation of Sivananda Hatha Yoga based on the teachings of Swami Sivananda and Swami Vishnudevananda. It will cover Proper Exercise (Asanas), Proper Breathing (Yogic breath and Pranayama), Proper Relaxation (Savasana), Proper Diet (Vegetarian) and Positive Thinking & Meditation (Vedanta & Dhyana) and is suitable for beginners to yoga or those new to the Sivananda method.
Six-week course
(One sessions per week)
---
Mondays 6:00-7:30pm
Starts May 6
Introduction to Meditation with Kathryn Cantwell
Four-Week Course
---
Wednesdays
11:00 - 12:15 PM
Starts April 18th
OR
Thursdays
7:00 - 8:15 PM
Starts April 19th
Six-Week course
---
Ages 4-7 years
Tuesday Afternoons 4:00 PM - 5:00 PM
Starts April 10
Ages 8-11 years
Wednesday Afternoons 4:00 PM - 5:00 PM
Starts April 11
Six-Week course
One session per week
---
Sundays
6:30 - 7:30 PM
Starts April 8th
OR
Fridays
8:30 - 9:30 AM
Starts April 12th
Six-week course
One session per week
---
Tuesday, 8:00 PM - 9:00 PM
Starts March 20
For yoga teachers, experienced yoga practitioners and anyone with
a passion for the yoga of the feminine during pregnancy.
Wednesday, May 2 – 5
Wednesday, May 9 – 12
9:00-5:00pm

Find us on google maps under
NILAYA YOGA & FITNESS CENTRE
---
Warehouse 4, Building 1
9B Street
Al Quoz Industrial Area 3
(opposite Buamin Marble & Granite Factory)
NIYALA HOUSE
Warehouse 4
9b Street
Al Quoz Industrial Area 3