Dear Nilaya House friends,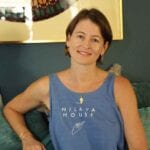 We're very fortunate at Nilaya House to have a team of incredible teachers who bring so much knowledge to their classes every week. Sometimes a regular class length is just not enough!
So we're really happy to be able to bring you some longer length weekend masterclasses. This month, two of our Iyengar Yoga teachers, Aparajita and Hodis will teach on Inversions and Women's Health respectively. Read below for details.
We have ten more classes left of our Ramadan Community Yoga classes running Sunday to Thursday 4:00-5:00pm. Drop ins are AED25 or AED125 for the full month. It's still a great deal to buy the pass now!
Yours in Yoga,
Nea Ferrier, Teacher & Founder, Nilaya House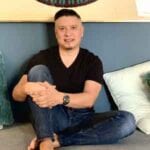 Name: Alfredo Mendez
Profession: Engineer
Other interests: Running, Golf, and debating controversial topics with people.
How long have you been practising yoga? 
Around seven years, with many breaks in between due to injuries and surgeries related and not related to yoga.
What classes at Nilaya House do you attend? 
Ashtanga Yoga, Mysore style.
Why do you practice yoga? What benefits does it bring?
I practice because yoga helps keep me more active during the day. I feel a lot more calm, kind and it keeps me grounded and connected to all things in my life. Because of my practice, my eating habits have changed substantially. Yoga for me has been a great journey that is not just the practice, it feels as though the moment the universe is perfectly aligned to provide me with everything that I need: the bond I feel with my teacher, the place, the people, the energy, and the connection with the earth.
What is your favourite posture and why?
Utplutih – because of how different it feels each time to take the same 10 breaths. Also because I am just moments away from taking a rest and embracing the post-yoga feeling of calm every single time I practice.
What's your advice for people wanting to start yoga? 
First of all, delete the need to be flexible and that the practice is too boring for you. Yoga practice is not only the physical postures. Yoga needs patience and consistency to see results. Yoga means union, which is integrating the mind, intellect, ego, senses, emotions, and body with one's source. However, all of this isn't going to happen quickly with just bending and stretching the body.

Kundalini Rebirthing with Nancy Zabaneh (Hari Darshan Kaur)
Five Sessions
AED750
"The idea of rebirthing is to release the subconscious, the storehouse of misery"
Rebirthing classes are said to have a profound transformational impact on the subconscious mind. The classes are open to all and can also be taken in lieu of the White Tantra to fulfill Level 1 KRI Aquarian Teacher certification requirements. Join Nancy Zabaneh (Hari Darshan Kaur) for this five-class journey.
Dates
Tuesday May 4 (7:30-9:00pm)
Tuesday May 18 (7:30-9:00pm)
Tuesday May 25 (7:30-9:00pm)
Tuesday June 1 (7:30-9:00pm)
Saturday June 5 (10:30-12:30pm)
Spaces are limited to 15 students only – WAIT LIST ONLY
Online option is available for AED600.

Shoulderstand & Headstand (Sarvangasana & Sirsasana) with Aparajita Ghose
Friday May 7
11:00-1:00pm
AED250
In his book Light on Yoga, B.K.S. Iyengar writes ' If Sarvangasana is the Mother then Sirsasana may be regarded as the Father of all asanas. And just as both parents are needed for peace and harmony at home, so the practise of these asanas is essential to keep the body healthy and the mind tranquil and peaceful.'
In this two-hour workshop you will learn;
how to practise both these important asanas according to the Iyengar Yoga system
modified versions of the poses using props such as ropes and chairs
safety tips and alternatives to practise with similar effects during menstruation
benefits and importance of building these two asanas into your daily practice
Suitable for regular yoga practitioners
---
Yin & Roll with Amanda & Emilie
Friday May 21
3:30-6:00pm
AED275
Stress – Body tension – Recovery for performance.
How does self massage and long releases sound?
Combining self massage, using Yoga Tune Up therapy balls, and long Yin releases,  Amanda and Emilie's signature workshop will leave you feeling connected, stretched out and UTTERLY relaxed.
.Absolutely no need for any yoga experience. If you have a body, you can do this practice.
---
Yoga for Women's Health with Hodis Kavian
Saturday May 29
10:30am-12:30pm
AED175
This Yoga for Women's Health workshop focuses on yoga sequences to support the female reproductive system and promote a relaxation response. The sessions will relax, renew and rejuvenate.
This session is designed for and will benefit greatly:
– Women suffering from pre-menopause symptoms.
– Women experiencing PMS symptoms and menstrual pain, particularly before and during the cycle.
– Women looking to reduce the impact of a busy life on their mental and physical wellbeing.

New Moon Sound Meditation with Awakening Prema
Tuesday May 11
7:30-9:30pm
AED210
Full Moon Sound Meditation with Awakening Prema
Thursday May 27
8:00-9:30pm
AED165

Yoga Retreat with Nea Ferrier
Rwanda, Virunga Mountains
October 15 – 21, 2021
Full details will be announced early May. Email [email protected] if you would like more information.