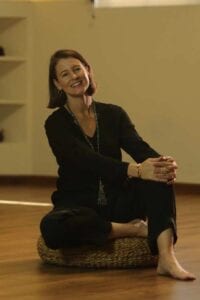 Dear Nilaya House friends,
Welcome to 2021!
We're delighted to start January with an expanded timetable including Hatha yoga classes taught some of Dubai's top Hatha teachers. See the schedule below.
We're also continuing to offer a number of ways to practice Ashtanga Yoga online from Mysore, led and Ashtanga beginners classes, as well as the regular in shala classes.
Our Yoga Teacher Training course restarts in February. There are a few spots left so get in touch if you are curious to learn more.
We look forward to seeing you soon!
Yours in Yoga
Nea

Hatha Yoga classes
Monday & Wednesday 6:30-7:30pm (Sneha Arora)
Sunday 10:30am (Manisha Khandelwal)
Tuesday 8:30am (Manisha Khandelwal)
Saturday 5:30pm (Payal Barua)
Iyengar Yoga classes
Monday & Wednesday 5:00-6:15pm (Hodis Kavian)

LAST CHANCE TO ENROL
200/300-hr Teacher Training Courses start February 5 
Accreditation from the international Yoga Alliance, The Yoga Institute and the AYUSH (Indian Ministry of Ayurveda, Yoga & Naturopathy).
Participants are entitled to 15% off the three-month and six-month passes at Nilaya House

Structural Breathing with Rangaji Ramachandran
Friday January 15
10:30-1:30pm
AED375
An introduction to Ancient Breathing Practices, supported with modern understanding.
---
Yin & Roll with Amanda & Emilie
Saturday January 23
4:00-6:00pm
AED250
Combining self massage, using Yoga Tune Up therapy balls, and long Yin releases, this two-hour workshop will leave you feeling connected, stretched out and UTTERLY relaxed.

FULL MOON – Thursday January 28
Sound Healing with Awakening Prema
7:30-8:00pm
AED150