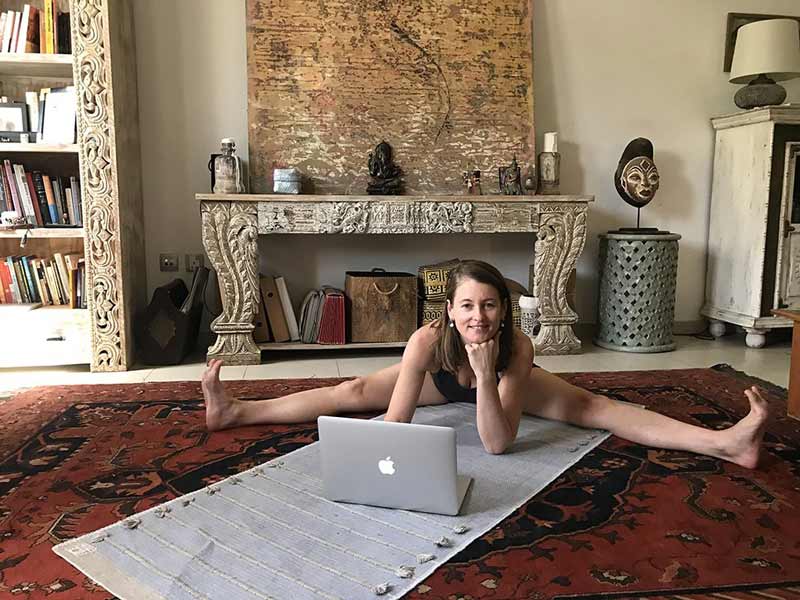 ASHTANGA YOGA ONLINE PROGRAMME 
REGISTRATIONS OPEN FOR OCTOBER-DECEMBER MODULE
This programme is for students wanting an immersion into the practice of Ashtanga Yoga under the guidance of an authorized teacher, but who are not able to come into our shala in Al Quoz due to distance or time constraints.
The program includes;
Full access to Ashtanga Yoga Dubai's online class schedule; Ashtanga level 1, Mysore, Full led primary classes
– Up to ten classes per week to choose from
PLUS
Two Saturday workshops per month taught by level 2 authorized teacher Nea Ferrier.
– Asana techniques workshop (2 hours)
– Theory lecture (1.5 hours)
The programme is open to students of all levels including beginners. All classes and workshops will be live and interactive (via zoom). Workshops and lectures will be recorded and accessible for 14 days after the live date.
ASANA TECHNIQUES
October: Building Inner Strength with Bandhas
November: Awakening the Spine
December: Restorative Postures
THEORY LECTURES
October: Introduction to Patanjali's Yoga Sutras
November: Introduction to Ayurveda/Lifestyle of a yoga practitioner
December: Lifestyle of a Yogini: Special focus for women
DATES:
Saturdays
Oct 3 & 17
Nov 3 & 21
Dec 5 & 19
Times 3:00-4:30 or 3:00-5:30pm
PRICING
EARLY BIRD Pricing AED2060 by September 19
Afterwards AED2750. Registrations close September 25.
**SPECIAL OFFER**
Accces to the past recordings of workshops and class from July to September available for AED650.
Month 1 Workshops: Surya Namaskars & Breath/ Lecture: Methodology of Ashtanga Yoga
Month 2: Workshop:Standing Postures
Lecture: History of Yoga
Month 3: Workshop:Forward bending/hip mobility
Lecture: Opening and Closing Chants
For access to these recordings please email [email protected]
ONLINE CLASSES TIMETABLE
Sunday
7:00am – Led class
Monday
7:30am – Mysore class
6:00pm – Led class
Tuesday
9:00am – Ashtanga Level 1
7:00am – Led class
5:00pm – Ashtanga level 1
Wednesday
7:30am – Mysore class
6:00pm – Led class
Thursday
7:30am – Mysore class
5:00pm – Ashtanga level 1
Friday
8:30am – Led class