Dear Nilaya House friends,
Well it's officially the end of summer and while our seasons are not as pronounced as those elsewhere in the world, we all notice that first week when the early mornings start to feel quite pleasant, and we know milder temperatures are around the corner. Through a regular yoga practice we start developing greater awareness of the interconnectedness of all aspects of our being and how we relate to, and are impacted by, our external and internal environments. We tangibly experience for ourselves the link between the body and the mind, recognising how disturbances in the mind can lead to illness, and similarly how illness can disturb the mind. It is this understanding that underpins the sister sciences of Yoga and Ayurveda. I'm happy to welcome Kiki Flynn to the shala this coming month for a weekend intensive, exploring this very idea – how yoga philosophy can be translated into our day-to-day life for optimal wellbeing and happiness. I hope you can join us (details below).
Yours in Yoga,
Nea
---
WEEKEND INTENSIVE
---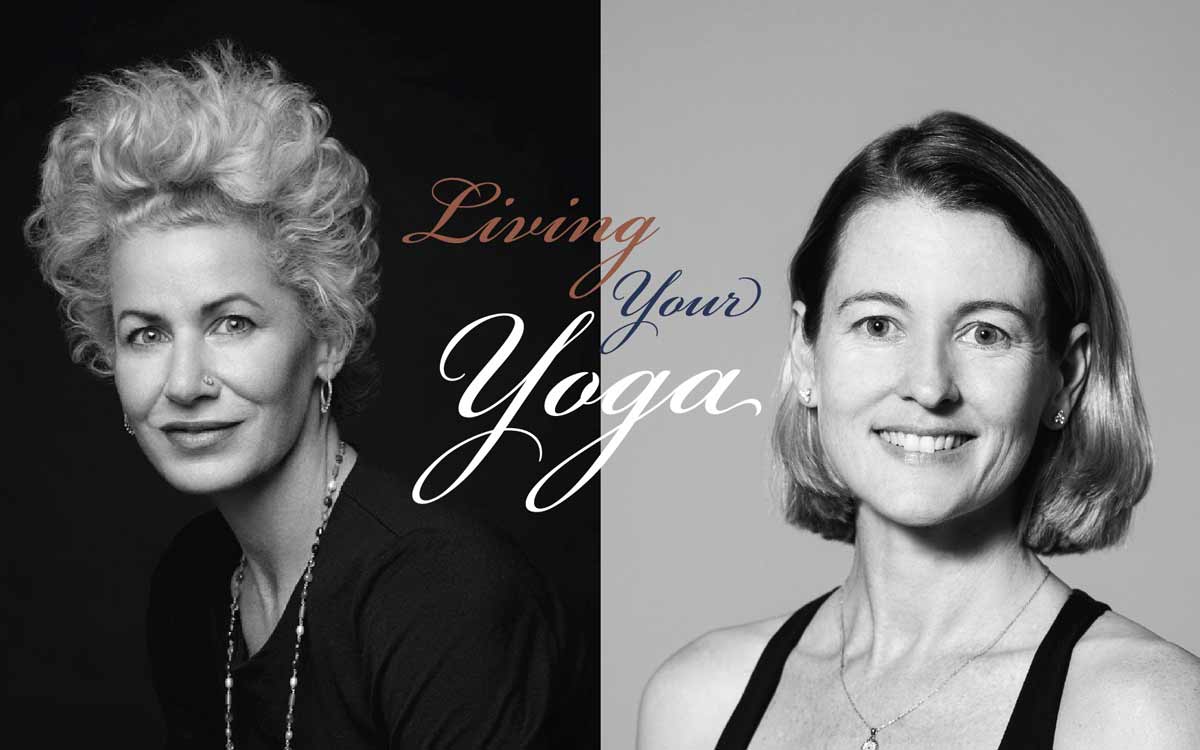 YOGA PHILOSOPHY, AYURVEDA and practical HOLISTIC YOGIC LIVING
20-hour immersion (Yoga Alliance Accredited – 20 YACEP)
FRIDAY OCTOBER 11 – SUNDAY OCTOBER 13, 2019
CALLING ALL YOGA LOVERS!
We often hear the expression yoga on and off the mat, but what does that mean?
Can we really integrate yoga practice into our daily life? Absolutely!
When we Live our Yoga we cultivate awareness and choice in all that we do, creating a beautiful life of meaning for ourselves, our families, and our communities.
Join Kiki Flynn & Nea Ferrier for a weekend intensive exploring the Yoga Lifestyle: uniting YOGA PHILOSOPHY, AYURVEDA and practical HOLISTIC YOGIC LIVING.
This is a great opportunity for yoga practitioners and teachers of all levels and backgrounds to connect and expand your understanding of the many aspects of Yoga, that support and deepen the asana practice as well as our daily living.
Our special intensive also includes a module specifically for yoga teachers, based on Kiki's popular online teacher-mentoring and coaching program.
PROGRAM
FRIDAY OCTOBER 11
9:00-10:30am – Building the Foundations Yogaasana Class 
10:30-11:30am – Group Brunch
12:00-1:30pm – Yoga Sutra Sanskrit Chanting and Philosophy discussion.
Yoga's Universal Values.
2:00-5:00pm – Practical Everyday Ayurveda
Your personal path to a Yogic Lifestyle.
SATURDAY OCTOBER 12
10:00-11:30AM – Facing Fears and Building Resilience with Yogaasana
12:30-2:00pm – Yoga Sutras Sanskrit Chanting/Philosophy discussion
The Eight Limbs of Patanjali's Yoga Sutras.
2:30-4:00pm – Living Your Dharma
How to bring alive yoga in daily life.
4:00pm – Chai break
4:30-6:00pm – Rest & Reset Session
Sound healing/Somatic Movements.
SUNDAY
8:00-10:00 – Morning Mysore
Students new to the method will be taught directly by Kiki.
11:00-2:00pm – Your Professional Teaching Life
Yoga Teacher Mentoring Session with Kiki.
---
UPCOMING WORKSHOPS
---
SPINAL EXTENSION THROUGH YOGA
WITH RANGAJI
In this workshop Rangaji will review the structure of the spine and how extension
– is the root of all movement
– increases breath capacity
– impacts on the nervous system
– combats fatigue
– improves digestive function
– stabilises the pelvis
FRIDAY OCTOBER 4 11:00-2:00pm
AED290 or AED250 for NH members
AED250 for NH members
YOGA NIDRA INTENSIVE
WITH MONICA SPERLING
Immerse yourself in an inward journey with practices leading to Conscious Sleep/Yoga Nidra. This workshop will be based on practices of the Himalayan Tradition as taught by Swami Rama. The session will begin with a brief introduction and joints and glands exercises followed by guided savasana practices leading to increased awareness. Draw guidance, inspiration and energy from this experience of conscious sleep.
FRIDAY OCTOBER 4 3:30-5:30pm

AED150 or AED125 for NH members
ROPE WALL WORKSHOP
WITH GANESH SHINDE

Have you seen the ropes on the wall and wondered what they are for? Maybe you've tried the ropes before and would like to explore more? This special two-hour session is for you. Join Ganesh in learning how the rope wall can be used to support and enhance yoga asanas. Open to all levels.
SATURDAY OCTOBER 5 12:00-2:00pm

AED150 or AED125 for NH members
AGING GRACEFULLY: A YOGA WORKSHOP FOR WOMEN
Jiji Graham has been practising yoga for more than 40 years. Join her for a workshop on how yoga can be used to support the ageing process, allowing us to embrace our mature years with acceptance and grace. The session will incorporate yoga philosophy principles that can help us navigate through this sometimes challenging and confronting time as well as yoga asanas, that help maintain the integrity of the spine as we age and release common areas of tension for women. The workshop will also look at how yoga can be a friend and guide through the menopausal period.
SATURDAY OCTOBER 5 2:00-5:00pm

AED250
---
UPCOMING COURSES
---
FOUR-WEEK PRENATAL YOGA COURSE
FRIDAYS 9:00-10:00am
STARTS OCTOBER 4
AED380
FOUR-WEEK BEGINNERS YOGA COURSE
MONDAYS 6:30-8:00pm
STARTS OCTOBER 7
AED380
INTRO TO ASHTANGA (WOMEN ONLY)
TUESDAYS & THURSDAYS (THREE WEEKS)
10:00-11:00am
STARTS OCTOBER 8
AED580
---
AYURVEDA CORNER
---
BREAKFAST ON-THE-GO 
Ayurveda discourages eating on the move and in a rush, as it exacerbates the 'wind' element (vata) leading to poor digestion and sometime mental angst. However, many of us need to sneak in breakfast on the go. If you do need to eat on the run, take a few breaths first, slow the mind, relax the belly, and welcome the food with in with full attention. Eat especially slowly. It's also useful to eat easy to digest foods, such as pre-soaked oats or chia.
Here's a lovely recipe from Kate O'Donnell's The Everyday Ayurveda Cookbook.
(on sale in the shala AED125)
Fig Cardamon Oat Cup 
1/2 cup of rolled oats
3 dried figs, quartered
1 tsp maple syrup
1/8 tsp ground cardamon
1/2 cup of almond milk
Combine all the ingredients in a glass jar, almond milk last. Let the mixture soak at
room temperature for a few hours or keep it in fridge overnight ready for breakfast
the next morning.
---