Dear Nilaya House friends,
We are three-years old today!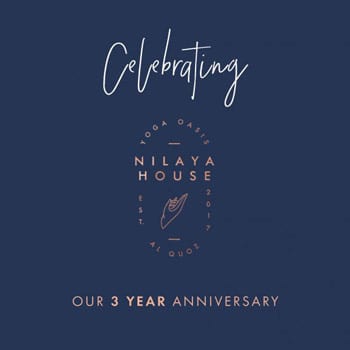 Thank you to all our students and teachers who have been part of our journey so far. We look forward to more years to come!
With the new social distancing requirements that came in this month, we are installing an Iyengar Yoga rope wall in the upstairs shala to allow for more space.
We'd love your support for these renovations and invite you to attend two special Iyengar Yoga masterclasses, one by Naseem Kapasi (details below) and Aparajita Ghose (details coming soon).
There's some great new classes starting this month, including Hatha, Kundalini, Prenatal and a special class focused on Women's Health.
We're still running more than 20 classes per week via zoom, so if we don't see you in the shala, we hope to see you online!
Yours in Yoga,
Nea

Starting this Month
Hatha Yoga
Mondays 8:45-9:45am (Hema Laxman)
Wednesdays 4:30-5:45pm (Hema Laxman)
Iyengar Yoga (in shala & online)
Monday 5:00-6:15pm (Hodis Kavian)
Kundalini Yoga (in shala & online)
Wednesday 10:00-11:30am
---
Prenatal Yoga (in shala & online)
Friday 9:00-10:00am (Britni Allen)
Restorative Yoga 
Thursday 10:30-11:45am (Nassima Bename)
Women's Essentials (in shala & online)
Wednesday 8:30-9:45pm (Hodis Kavian)

Inversions & Backbending with Naseem Kapasi
Friday February 19
10:30am-12:30pm
AED250
Join Naseem for special masterclass focused on energizing and therapeutic inversions and backbending asanas.
This is a special event to raise money for our new Iyengar Yoga Rope Wall! Spaces are limited.

Five-week Buddhist Meditation Course with Camilio Cerro
Saturdays 6:00-7:00pm Starts February 6
Online via Zoom (recordings available)
AED380 (Students with unlimited NH membership may also attend)
Week One: What is Meditation?
Week Two: Anapanasati (Breath Awareness)
Week Three: Body Scan techniques
Week Four: Thong Len (heart-centered practice)
Week Five: Technique refinement and consolidation.
The class will consist of a 30 minute theory lecture followed by 20-30 minutes of practical meditation.
---
Sanskrit Chanting Course with Lakshya
Four sessions
Tuesdays & Thursdays for two weeks
Februar 9, 11, 14,16
1:00-2:30pm
Online Via Zoom (recordings available)
AED495
– Put the Sanskrit sounds into practice
– Learn some popular chants
– Practice pronunciation of asana names

NEW MOON – Thursday February 11
Shamanic Breathwork with Awakening Prema
7:30-9:30pm
AED200