ONLINE TRAINING VIA ZOOM
May 3 – June 6, 2020
The GOLD-STANDARD for Vinyasa Yoga Teaching Training is now OPEN TO STUDENTS FROM THE GCC/INDIA/PAKISTAN. This is the first time this famous international Yoga Alliance training is available in this region outside of the UAE.
The training will be run online via zoom conferencing software led by senior teacher Liz Terry, based in Dubai UAE. An amazing opportunity to be certified by the prestigious YogaWorks.
YogaWorks Method & History
Based in the US, YogaWorks has been leading quality teacher trainings for the last 30 years, producing many famous graduates including Seane Corn, Shiva Rea, Kathryn Budig, Annie Carpenter, Max Strom, and many more!
YogaWorks is a Vinyasa-based school that teaches a method that balances precise instruction, detailed alignment, breath and fluid movement. Classes are carefully themed to deepen the students' experience of Yoga. A flow of Sun Salutations and postures are skillfully sequenced, and modifications and props are used to individualize the practice for each student.
The YogaWorks Teacher Training Program is based on this clear and effective style of practice.
Who is it for?
Aspiring teachers and students who want to deepen their practice.
Program Tuition & Early Registration:
12390 AED if paid in full by April 23, 2020
13,915 AED after April 23, 2020
Tuition must be paid in full by the early registration date to receive the discounted rate.
PROGRAM OVERVIEW
PROGRAM
Sunday to Thursday
8:00-11:00am – Practice/Anatomy
1:00-2:30pm – Theory lecture – philosophy
3:30-5:30pm – Practice teaching
CLASS REQUIREMENTS
We recommend one year of consistent yoga practice and require a minimum of six months of a consistent yoga practice.
Pay now a AED1500 Deposit to secure your spot in the training, and pay your remaining balance by the early registration date to take advantage of the early registration tuition.
Why YogaWorks Teacher Training?
---
Experience. Time tested training curriculum refined over 25 years.
Intelligent Sequencing. Learn the art and science of designing a dynamic yoga class.
Learn to truly teach, not just recite. Serve your students by instructing their bodies into alignment.
Platform for developing your own style. Find your own unique voice as a teacher.
An elite global network. The YogaWorks Teacher Training program is respected worldwide.
Tuition Includes:
---
The opportunity to learn from a skilled YogaWorks teacher trainer.
Five Training Manuals which include comprehensive information on asana, philosophy, sequencing, & more.
A letter of completion and diploma which enables you to register with Yoga Alliance upon completion.
Unlimited access to MYYOGAWORKS.COM, our online yoga video platform, during your training. Special alumni communication and benefits.
100 Hours: Training Techniques
30 Hours: Teaching Methodology
20 Hours: Anatomy & Physiology
30 Hours: Yoga Philosophy & Ethics
20 Hours: Practicum
200 Hour Typical Sample Day
---
8:00-10:00: Asana Practice: Shoulder Stand Focus
10-10:30: Sequencing: Review & Discuss Today's Sequence
10:30-12:30: Philosophy: Yoga Sutras Lecture & Discussion
12:30-1:15: Lunch
1:15-2:00: Anatomy: Shoulder Girdle Lecture & Discussion
2:00-3:00: Lecture: Principles & Benefits of Inversions
3:00-4:00: Posture Lab: Adjustments in Shoulder Stand
4:00-4:45: Practice Teach: Shoulder Openers
4:45-5:00: Review & Closing Circle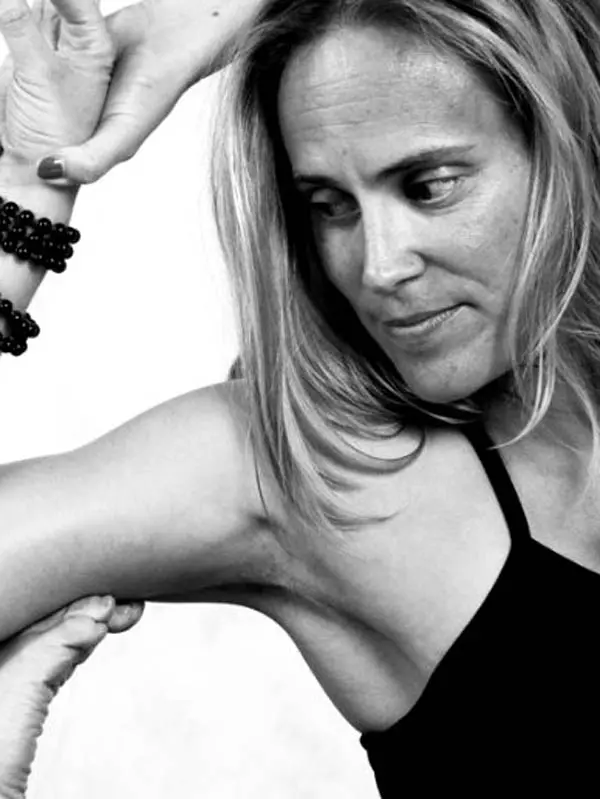 About Liz Terry
It consistently takes an open heart and a willingness to jump in feet first to surrender to inner guidance. Liz followed her inner guidance and is an eRYT500 movement explorer and Yogaworks teacher trainer who caught a bit of wanderlust and has been traveling, teaching yoga for the past decade. She's studied with YogaWorks for her 200hr teacher training in California in 2008, with Michel Besnard in Thailand for her 300hr in 2011, and with Jill Miller & Yoga Tune Up off and on since 2013. Liz has a variety of knowledge from different backgrounds to share and is currently attending the Rolf® Institute of Structural Integration to expand her body knowledge even more (will graduate in 2019). What she's learned from her teachers and students from being abroad goes beyond what being on the mat has taught her. Liz continues to enhance her teaching by practicing all types of movement from yoga to crossfit, Ido Portal, running & Yoga Tune Up etc. Her classes challenge the idea of what asana is, allowing her students to explore and empower themselves by learning what their bodies and minds can do.