Inversion Triology Workshops
with Mayank Dhingra
---
Saturday April 28
10:00 AM – 12:30 PM
Sirsasana, Sarvangasana and Paschimottanasana – The Yoga Triune.
---
Drawing on sources from antiquity to the present day, from philosophy to physical practice, from mysticism to emotional health, from esoteric concepts to physiological benefits, join Mayanak for a journey into the heart of yoga.
Born within a year of each other in the 19th century, Swami Sivananda and Shri Krishnamacharya, were two of the greatest yoga masters to have walked this earth.
Swami Sivananda advocated that only three asanas are sufficient to keep a yoga practitioner in good health – the Headstand, the Shoulderstand and the Seated Forward Bend.
Likewise, Krishnamacharya stated in his seminal work Yoga Makaranda that the two most important asanas that should be practiced daily were the headstand and the shoulder stand and this should immediately be followed by seated asanas.
Inspired by the teachings of these two yoga luminaries the workshop approaches inversions through three dimensions: physical, spiritual and emotional
Pricing
AED200
Early bird price of AED175 before April 6
About the Teacher: Mayank Dhingra
---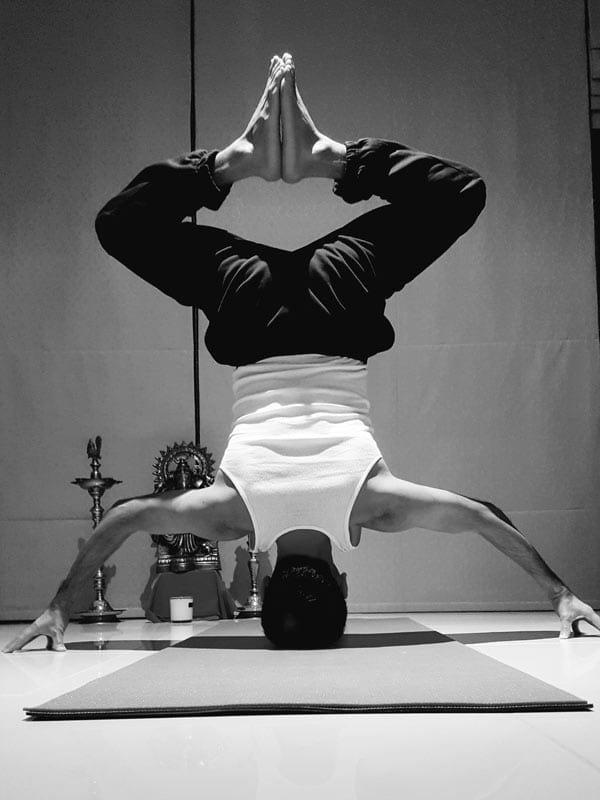 Mayank is a Sivananda Yoga Teacher and the founder of Yogasmriti – a not-for-profit initiative that combines personal wellbeing with community wellbeing and supports underprivileged children across the globe.
He has been practicing since 1997, teaching since 2004; and has taught in various locations across UAE, Qatar and Sri Lanka. Mayank's classes are inspired by a multitude of schools and forms, however at the core is a Sivananda attitude and classical Hatha Yoga approach.
A steadfast enquirer into all subjects related to yoga and a committed daily practitioner of the art, his personal practice is founded on the principles of Abhyasa (persistent practice), Swadhyaya (self-study) and Karma (community service).
Mayank is fascinated by the taxonomy and etymology of the yoga asanas and is currently working on his book on yoga mythology – linking nomenclature with history. Find out more on yogasmriti.com