Join international yoga teacher, Tim Feldmann for a series of workshops covering the practice and philosophy of Ashtanga Yoga.
These sessions are open to not only Ashtanga yoga practitioners but others interested to learn more about this method of practice.
Thursday January 19
10:00am-12:30pm
Detailing the Primary series, Part I (Suryanamaskara – Navasana)
In this class we take spring in a traditional Primary Series guided class, with occasional inspired off-springs into technical detail and useful hints for moving your practice along.
We will explore anatomical mechanics for a deeper and more informed practice, as well as touching on the background of the Ashtanga method.
Friday January 20
10:00am-12:30pm
Detailing the Primary series, Part II (Bhujapidasana – Utplutih)
Continuing where we left off in part 1 we will start this class with a dedicated focus on Ashtanga's Vinyasa method of breath & movement connection followed by a detailed look at the remaining asanas of the primary series.
These workshops are open to all levels
AED300 per session or AED500 for both
---
Saturday January 21
8:30-10:00am
Body & Breath
Join Tim for a guided morning practice, focusing on yogic breathing, foundational standing asanas and light inversions. Tim will guide you through anatomical key notes, healthy alignment tips and the breath-body connection, all while pointing you towards the real yoga of Patanjali's Yoga Sutras. All levels welcome.
AED200
---
10:30am -12:30pm
How Does Yoga Work? – Sutra Talk & Q&A (2 hours)
Did you ever wonder how yoga actually works? Are you curious about how bending your back can possibly elevate your soul? How can jump-throughs be a tool to self-realization and is it necessary to have a spiritual intention to practice yoga? In this opening session Tim talks about the building blocks of Ashtanga Yoga and our practice. Drawing upon the authority of yoga, Sri Patanjali, Tim will take a dive into the Yoga Sutras in the attempt to dig some answers out for everyday use. We will finish with a Q&A.
AED150
---
2:30-5:30pm
Sthira Sukham & Backbending
Develop your 'sthirasukha', your firmness and comfort, for aptitude and health in your yoga. Taking base in the Ashtanga yoga Intermediate Series backbends we will direct body and mind towards the essentials of successful and fear-free backbending.
The key to deep backbends are available to you through the integration of sound anatomical principles, healthy alignment and technique and accurate knowledge of your inner body.
The movement mechanics of bending your spine are the key to an enhanced flow of energy and in this class you explore your natural potential for backbends with simplicity, safety, support and enthusiasm.
AED375
---
Total programme – AED1100
Thursday/Friday only – AED500
Saturday only – AED650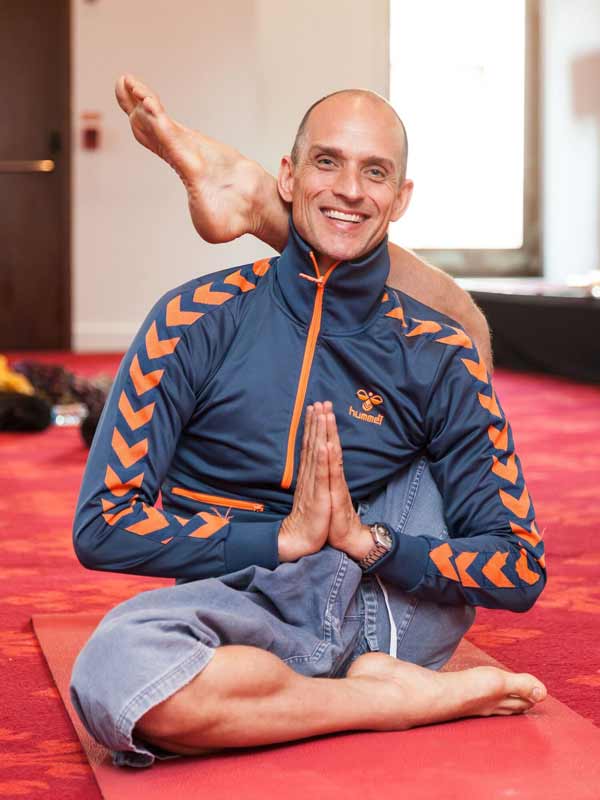 Tim is the co-founder of the world-wide recognized Miami Life Center and of the newly-opened Miami Yoga Garage. He has practiced yoga since 1994 and Ashtanga Since 1999 and is authorized to teach by Pattabhi Jois and Sharath Jois.
A practitioner of Ashtanga Yoga's Advanced A Series Tim finds Ashtanga's traditional method an exceptional path towards healing, wisdom and self-realisation.
Drawing upon his past as an internationally successful dancer and acclaimed choreographer, anatomy, alignment and technique is his second nature.
Tim has been pursuing in-depth studies of Patanjali, Sankhya and Vedanta over the past seven years with Vidwan Nagaraja Rao, Jayashree & Narasimha and other exceptional scholars in South India.
Cherished worldwide for his fun, disciplined and detailed pursuit of authentic yoga and his compassionately effective touch, Tim travels to yoga shalas around the globe with the inclusive message of how study, steadiness and devotion is the means to powerful transformation both inside and outside of us.