Yogic meditation (dhyana) is not merely a practice of sitting still but a comprehensive, gradual process that starts with turning the mind inward and ends with the realization of the Self. 
If you are a Yoga practitioner seeking to deepen your experience of Yogic Meditation (Dhyana) and equip yourself with the necessary tools to facilitate the same, then this course would be for you.
In this course, we will experience various levels of focus and meditation (Dharana and Dhyana) and understand them through both, the scientific and the scriptural perspective.
Our emphasis is on experiencing meditation as an inner process and learning how to facilitate a meditation journey.
Topics to be covered include;
The philosophical basis of Yogic meditation (Dhyana)
Basis and benefits of meditation in the scientific view
Asana & Pranayama practice to prepare the body for sustained sitting.
Elaborate inquiry into Discerned Detachment (Viveka-Vairagya).
Various methods of turning the mind inward – active, passive, and stillness modalities
Cultivating a Meditative attitude in daily life through Karma and Bhakti ideals.
Meditations from the Bhakti, Tantra & Yoga schools. Mantra as meditation
Learning to be with yourself. Three days of silence (Mauna).
Teaching how to facilitate meditations and being in the role of a space holder
DATES/TIMINGS
---
Friday September 29 – Thursday October 12 & 16
Weekdays 9:30am-1:30pm
Weekends 8:00-3:00pm
at Nilaya House, Al Quoz
Friday October 13 – Sunday October 15 will be offsite;
Three-day residential silent retreat (farm location in Hatta)
*Includes the three-day residential silent retreat (ashram-style). Shared accommodation and all meals.
Participation in the course can be secured with a 25% non-refundable deposit. The final balance to be paid by September 15.
Because this course focuses more on the participant's inner journey we have established a few prerequisites for application,
Participants should have at least a 200 Hour Yoga Teacher Training certification, and should be versed in basic Yogic concepts
Practitioners who are not certified Yoga Teachers but are keenly interested in developing a meditation practice will also be admitted pending an interview with Prasad.
Participants should have at least 3 months of unbroken daily Yoga sadhana (Yoga practice – whatever one's daily practice maybe)
Physical and mental health of participants should be sound and capable of meeting the rigours of the course
Participants should be comfortable being by themselves in silence and should be able to sit still for at least 30 minutes.
Keeping in mind the depth of this course, please apply only if you fulfill the above prerequisites.
Saturday June 24
11:00-12:00pm
Online Via Zoom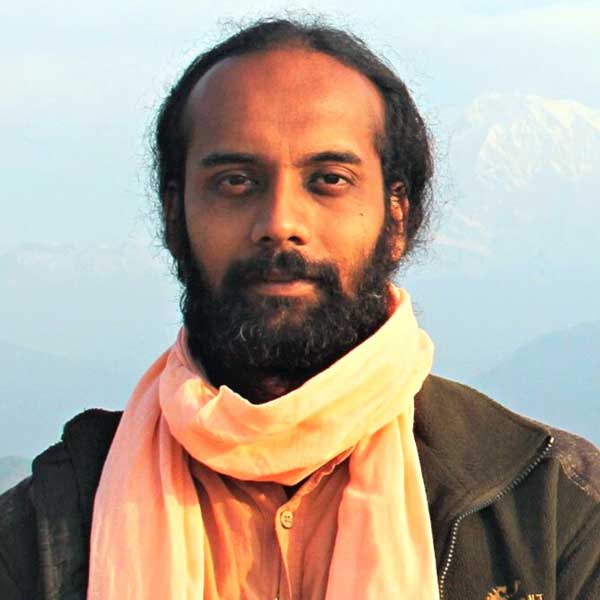 Prasad Rangnekar, E-RYT500, is a Yoga Educator based in India who teaches in over 15 countries for the past 27 years. He has been a student practitioner of Yoga for the last 37 years, studying both, in traditional lineages, as well as academically, with a Master's degree in Philosophy.
He is the Founder-Director of Yogaprasad Institute and conducts Yoga Teacher Trainings, mentorship sessions, retreats, and workshops to spread the wisdom of Yoga in its traditional sense. As a transformation guide using Yogic methods he is regularly invited to speak at Indian Embassies, The European Commission, Yoga conventions, Schools, Corporate bodies, and Charity organizations. He has established multiple close-knit student communities globally and is engaged in various social initiatives, primarily through his 'Women Yogis of India' seminars that raise funds for women-focused charities.
Prasad has been conducting 200 & 300 Hour Teacher Training for over a decade and also runs a free student resource Youtube channel that has over 350 videos with hundreds of hours of content.
Website: prasadrangnekar.com
Youtube: Yogaprasad Institute
Instagram: yogaprasad_institute